I found a new doll making program last night and decided to indulge. It's been a while since I did one so please bear with me. This is what I think I look like - or would do if I was twenty years younger and skinny again! (The wings are the tree hugger fairy in me! )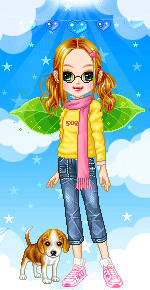 Doll Maker
I got some new books last week and thought I'd share so you can drool!
I think I've decided that making smaller items is definitely more my speed. I don't seem to be a sweater and afghan kind of girl. I need more immediate gratification than that. Never say never, though! I've got one of each that I need to finish right now and who knows what I'll feel like later.
I also ordered a spinning book this week. I keep imagining that I'll have all this wonderful time to spend on my interests come the long winter. But I've been thinking that for a while now so maybe it's all a dream that I'll forever pursue and never obtain! Ain't giving up the dream, though!
In the words of John Lennon, whatever gets you through the night! M