I decided that I would make a list of the books that I've read since January 1.
Being an English teacher has given me the oppotunity to read so many books that I would never have chosen for myself. I must say that I'm having a blast with the whole experience. I will miss my English classes next year when I'm teaching math and science but not enough to volunteer to do it again! ;-)
So here goes.
Reading Lolita in Tehran
Blue Shoe
A Student of Weather
A Rhinestone Button
Stones From The River
The Crucible
Animal Farm
Much Ado About Nothing
Macbeth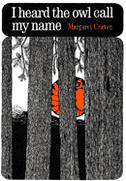 I Heard the Owl Call My Name
The Giver
Hatchet
Eaters of the Dead
I have also read a few short plays and short stories that I can't find images for.
It's not a bad list but I feel it will expand greatly once I'm on summer holidays and have more time to read and knit.
I do have these currently on the go that will soon be added to the finished list.

The Amulet of Samarkan
Fahrenheit 451

How the Scots Invented the Modern World
Little Women
I always have a few books going at once as I am frequently in different moods when it comes to reading. This is especially true when I am reading things that need to be read, and not just things that I want to read.
What are you reading?
Hope you all have a fantastic day! M