And Friday, too! At least around here, that's how it works.
I didn't get anything today (not even a bill - yeah!) but it reminded me that I did get a couple/few packages before I left on my western Canada tour. I thought I'd do a bit of a recap for you.
First, let me just say that, after months and months of trying, I finally got a copy of this:
Yahoo for that! I had to place three (or was it four?) different orders and finally found a copy that could be delivered to me.
Needle Arts Book Shop
totally rocks!!!
While I was browsing their selection, I also ordered one of these:
It's about the history of knitting in Canada. How perfect is that for this history buff who knits?!
I had also ordered a few things from
One Fine Yarn
, (okay maybe "a few" is a bit of an understatement, but just a bit).
Ann Norling's patterns for flower and fruit baby hats! How adorable!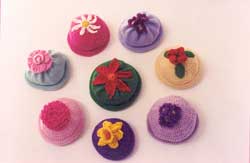 Ann Norling's Scrap Vest pattern
And, another pattern I've been waiting to get for ages - Felted Clogs!
They also had on a yarn pack that was in such yummy colours, I could not resist - absolutely could not, could not! (And that's the honest truth, your honour!)
I didn't even have a plan for these yarns when I bought the pack, but I'm working on one. (The two skeins at the bottom are both Cascade 220.)
Well, I feel terribly spoiled and indulgent now that I've revealed all my online shopping to you! I'll just sign off now and go knit something to assuage my guilt!
Happy knitting all, M